Click stars to rate this product, organization (company) or online activity!
In short, Klynu .com doesn't seem to be a genuine online store. It looks like one of those online stores which may send either cheap quality or wrong item, or nothing at all. As per our analysis, the safety index for Klynu is: 45/100 (Below Average)
If you want to find out why Klynu seems suspicious, then this page offers a brief yet informative Klynu review to assist you in determining the reality of this online store.
This Klynu review was first published on 9 June 2022, and updated at 1 Sep 2023.
Website Highlights:
Domain name: Klynu.com
Website name: Klynu
Email: service@klynu.com
Parent Company Name And Address: XBP INTERNATIONAL LTD, 145-157 ST.JOHN STREET, LONDON, ENGLAND, EC1V 4PW
Contact Phone Number: +447482875871
Product Categories Available On Its Website: fashion items like dresses, tops, two pieces sets, sweater, sweatshirts, etc.
Products Listed On Its Website: Green Camouflage Drawstring Cuffed Pants White Tunic 2-Piece Set, Orange Print 3/4 Sleeve Two Piece Set, Breezy Blue Plain Two Piece Set, Comfy Plain Short Sleeve, etc.
We have classified Klynu as a scam online store due to the following reasons:
Klynu states that its parent company, XBP INTERNATIONAL LTD, is located at 145-157 ST. JOHN STREET, LONDON, ENGLAND, EC1V 4PW, as mentioned on its Terms of Service and Contact Us pages.
Google Maps search reveals no evidence of any business named XBP INTERNATIONAL LTD or Klynu at this address or in the surrounding area. Instead, other businesses are located at this address or nearby.
Additionally, other problematic sites, like as Varyle, Krury, Anzyo, Kacline, Anliia, Rycula, Ceyey, etc. share the same parent company name.
In this review, we found XBP INTERNATIONAL LTD as the parent company and the address of the online store. However, please be aware that similar sites have changed their parent company name and address in the past.
Its email address, Klynu@raddmail .com, is not associated with its domain name. Problematic sites often provide such unrelated email addresses.
The Checkout page shows a fake McAfee trust seal logo, not a real one. This puts your sensitive information, including credit card details, at risk.
This online store claims to offer a wide range of products at heavily discounted rates. However, many scam sites use this tactic to lure people into their fraudulent schemes.
The product images on this site are not original, raising authenticity concerns. They may have copied them from other websites or are simply reselling products.
Additionally, we have noticed that the website theme and other details match with multiple problematic sites, further adding to our suspicions.
The Return/Exchange Policy of this website appears to be highly impractical for returning or exchanging items.
Consequently, retrieving the entire payment from these types of sites is incredibly challenging due to their perplexing terms and conditions.
Similar sites' buyers faced poor support and slow deliveries, a concern here too. The site has numerous customer complaints on Trustpilot, BBB, etc.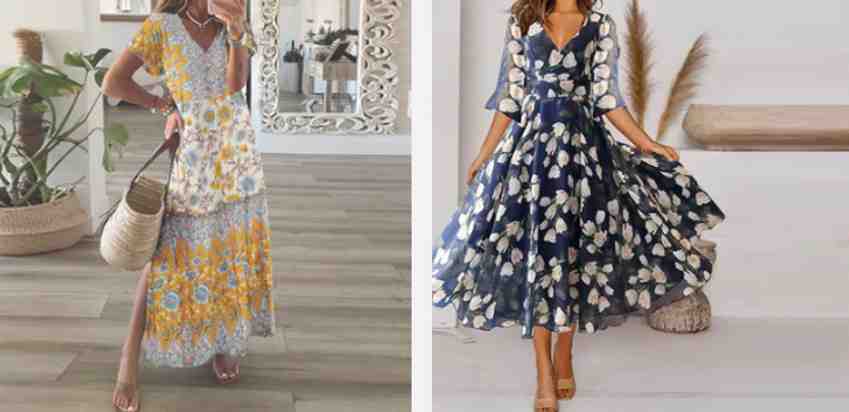 How to get a refund from scam online store?
Contact the Seller: Contact the seller and explain the situation. Also, remain calm.
Document Everything: Be sure to maintain detailed documentation of your order, including product details, all chats with seller, such as screenshots, emails, order confirmations, etc.
For Non Delivery of Goods:

You should contact your bank or credit card company, so that you can ask them to help you to get a refund.
If you have paid using PayPal, then contact the PayPal support team and initiate a dispute to get a refund.

For Delivery of Wrong or Cheap quality Goods:

Obtain a copy of the tracking information from the postal service, which should clearly display the delivery address and the item's weight, likely lower than the weight of the item you originally ordered.
Many individuals who have furnished such details to their financial institution or PayPal have successfully obtained full refunds with their assistance. So, share all the evidence and details about receiving the wrong item with your bank, credit card company, or PayPal, whichever method you've used.

Report to Authorities: Report the scam to relevant authorities, such as the Better Business Bureau, FBI, FTC, etc. or your country's consumer protection agency.
Monitor Your Accounts: A close eye should be kept on your financial accounts to ensure that additional unauthorized charges are not made by the scammer. Therefore, passwords should be changed, and two-factor authentication should be enabled on your online accounts for added security.
Consider Legal Action:

If all else fails or if the scam involves significant financial loss, then you may want to consult with a legal professional or consumer rights organization for advice on pursuing legal action against the scam online store.
However, the success of above-mentioned steps may depend on your location, payment method, and the policies of your credit card company or PayPal.
Our Final Verdict:
Based on the information provided above, it can be concluded that Klynu is a problematic online store.
Explore suspicious sites in our "Suspicious" category >HERE<, or learn about various scams in the "Scams" section >HERE<. Also, discover informative articles across different categories on our homepage >HERE<.
Please feel free to share your thoughts about this company in the comments below. Furthermore, spread the word about this online store to your friends and family through your social media accounts to keep them informed.
Note: The review above is based on information available on the website as of the mentioned date. However, websites like these often change their names and content regularly. So, if you encounter different information in the future, that doesn't make any difference and still indicates suspicious activity.
Klynu .com FAQs And Answers
Is Klynu a legitimate website for online shopping?
Determining the legitimacy of Klynu as an online shopping website proves challenging due to several red flags. These include copied product images and a troublesome return and exchange policy.
Furthermore, heavy discounts on the majority of listed products are claimed, which is a common tactic used by scam websites to attract unsuspecting customers.
Is it safe to shop on Klynu?
Based on the information from Klynu.com, it's not recommended to shop on this online store. It seems suspicious with fake trust seals, unrealistic return policies, and a questionable parent company.
Thorough research should be done, and caution should be exercised when shopping on any unfamiliar online store
What should I do if I have already made a purchase on a suspicious site?
If you've already made a purchase and suspect the website might be a scam, it's vital to monitor your credit card statements. Immediately contact your bank or credit card company to secure your credit card information.
Good Luck!